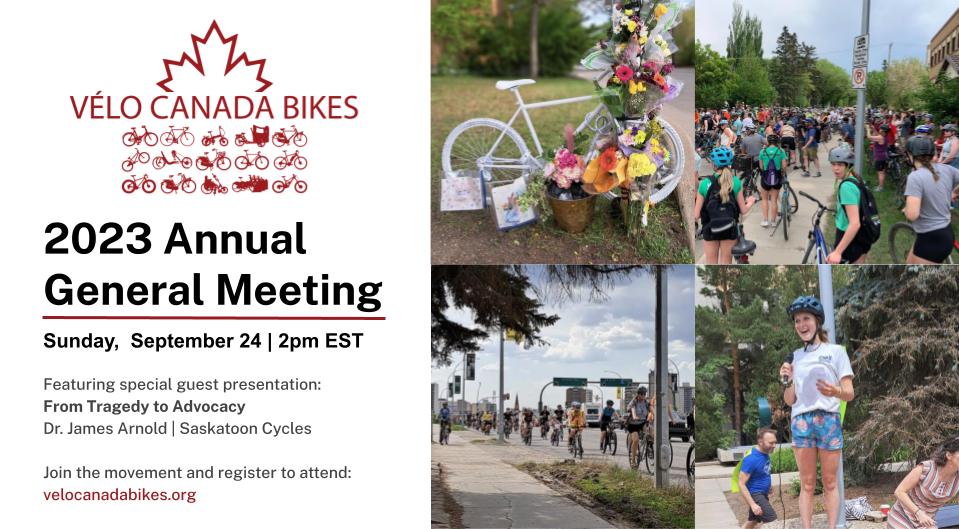 Be a part of our national voice for everyday cycling by participating in the Vélo Canada Bikes Annual General Meeting to be held on Sunday, September 24 over Zoom from 2 to 4pm EST.
This year's AGM will feature a special guest presentation from Dr. Jim Arnold of Saskatoon Cycles sharing the story of how their community rallied together in response to the tragic death of Natasha Fox this past spring.
Register here to be added to the list of attendees and automatically receive the Zoom meeting details and a link to add it to your calendar. The deadline to register is Friday September 22, 2023 at 11:59 EST.
Special guest presentation
From Tragedy to Advocacy:
A Community's Path to Safer Roads in Saskatoon
On May 24, 2023 mother, teacher and athlete Natasha Fox was killed by a cement truck while cycling with her children at the intersection of College Drive and Wiggins Avenue in Saskatoon. But that's not where the story started and it isn't where the story will end.
Join Saskatoon Cycles board member Dr. James Arnold in an accounting of the history of concerns over that same intersection and the wave of grassroots demonstrations that have arisen from the community since the tragedy. As the local cycling advocacy organization, Saskatoon Cycles played a key role as connector, communicator and advocate to channel their community's outrage into actions that will improve the safety of all road users in Saskatoon.

Dr. James Arnold
Dr. James Arnold is a clinical-community psychologist retired from clinical practice who currently consults on recovery from physical and operational stress injuries and the prevention of chronicity through physical activity. He has been a cyclist since the 1960s, year round since the 1990s when he discovered studded tires. James serves as a board member for local cycling advocacy organization Saskatoon Cycles and has been closely involved in their response to the death of Natasha Fox.
Everyone is welcome to attend but only current Vélo Canada Bikes members are eligible to vote. You must register in advance to receive the Zoom meeting details and attend the meeting.
If you are not yet a member, please join us. Your membership is essential to our national advocacy work. If you aren't sure about your membership status, please reach out to us at [email protected].
Please note that multiple representatives of member organizations may attend, but only one vote per member organization will be counted unless representatives also hold individual memberships.
Meeting time across Canada
Vancouver at 11:00 am PDT
Calgary at 12:00 noon MDT
Saskatoon at 12:00 noon CST
Winnipeg at 1:00 pm CDT
Toronto at 2:00 pm EDT
Montréal at 2:00 pm EDT
Halifax at 3:00 pm ADT
St. John's at 3:30 pm NDT